Government agrees £123m Heysham-M6 link road funding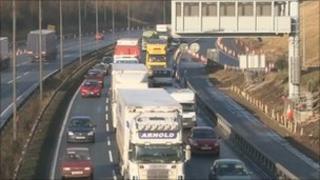 A major road-building project linking Heysham and Morecambe to the M6 has taken a step closer after the government accepted a funding bid.
The Department for Transport (DfT) has accepted a revised bid from Lancashire County Council in line with the Spending Review.
A number of design changes have cut the cost of the scheme from £139m to £123m.
The DfT will contribute £111m, with the council funding the remaining £12m.
Tim Ashton, Lancashire County Council's cabinet member for highways and transport, said: "The idea for a major road link from the port of Heysham dates back half a century.
"The Heysham-M6 link will generate thousands of jobs during construction alone, promote ongoing economic growth in the region and reduce traffic congestion in Lancaster city centre."
The cost-cutting changes include raising the road's height where it was below ground level near the motorway to avoid large excavations, redesigning slip roads to avoid making changes to two bridges, and no lighting apart from at junctions.
Construction could begin in late 2012, with the road opened to traffic in 2015.