'Significant' job cuts at Morecambe Bay hospitals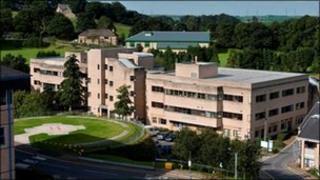 Hospital staff in north Lancashire have been informed of substantial job cuts.
The University Hospitals of Morecambe Bay Trust has to cut at least £15m from its budget in the next financial year.
Chief executive Tony Halsall said there would have to be "a radical review of clinical services" to meet 4% of efficiencies.
Mr Hallsall said: "I cannot see how this can happen without significant job losses."
'A huge challenge'
He described the savings, which had been expected to be in the region of £12m, as "a huge challenge" and admitted they are "much bigger than we thought".
The chief executive said the hospitals run by the Trust will lose even more money as more work will go to primary care trusts and to community care.
A special team has been set up within the Trust to prepare proposals to deliver the efficiencies over the next three months.
Kirk Panter, a nurse at the Royal Lancaster Infirmary and chairman of the joint unions at the hospitals, said the extra £3m of savings will result in a reduction of services available for patients.
"We have been in turn round for a number of years now so any easy cuts have already been made."
Mr Panter added: "The Trust will have to review what services are provided... and people will notice a difference in the service."
The Trust runs the Royal Lancaster Infirmary, Queen Victoria centre in Morecambe, Furness General in Barrow, the Westmorland General in Kendal and the Ulverston Community Health Centre.