Blackpool Council sheds 750 jobs in bid to save £27m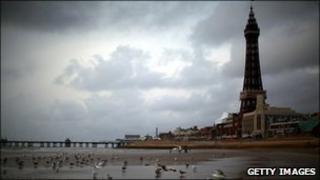 Blackpool Council has said it must shed 750 jobs to make savings of £27m after government cuts.
It anticipates up to 400 compulsory redundancies, and a further 200 temporary staff being laid off when their contracts expire in March.
Voluntary redundancies will be sought and 150 vacant jobs will not be filled.
The announcement came just hours after council staff agreed to take a pay cut, equivalent to four days' pay a year, to save £2.3m and reduce job losses.
The resort's annual illuminations will also be reduced to cut costs, the council said, with plans to begin this year's display from the Solaris Centre rather than starting it at Stargate.
'Efficiency programme'
Conservative leader of Blackpool Council, Councillor Peter Callow said: "I too plan to do my bit, and as staff have taken this decision then it is only right that I will make the same offer and reduce my allowance by the same amount.
"Included in my report are plans to reduce senior management by £800,000 on top of the £1.2m we stripped out last year and I will be reducing back office service costs by almost £5m.
"Other measures include an efficiency programme that will save £2.25m per year from 2012/13 and I am also recommending transferring £3.3m from reserves to the revenue budget, including that agreed for children's services at Executive on 12 January."
Mr Callow said he would continue to lobby the government for extra funding for Blackpool claiming that its resort status and transitory population meant it had additional funding requirements.
'No pleasure'
"The Coalition Government has had no choice but to reduce the huge deficit run up by the previous Labour administration, but I do not feel that Blackpool's special case has been considered fully in our financial settlement," he said.
"We are losing approximately £7.7m of funds through the Government's "damping" mechanism which helps to subsidise some other councils.
"On top of this though we have lost significant grants which were designed to assist disadvantaged areas such as Blackpool.
"Losing jobs from the council is not something I want to do, it is something we have to do and that gives me no pleasure whatsoever.
"To those people who ultimately will lose their jobs I can only express my sincerest gratitude for their service to the good people of Blackpool."
The public sector workers' union Unison has said it will consider balloting its members over industrial action.