Butcher who slit love rival's throat guilty of murder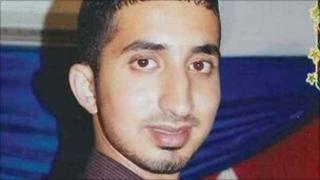 A trained butcher who slit the throat of his love rival in an alleyway has been convicted of murder.
Saheel Ahmed, 24, bled to death in Blackburn, Lancashire, after the attack, Preston Crown Court heard.
Naeem Butt, 38, did not give evidence in his defence as his barrister told the jury there were "considerable gaps" in evidence.
Butt, who was accused of murdering his estranged wife's lover, will be sentenced on Friday.
Saheel Ahmed screamed and ran for his life when Butt pounced after lying in wait as he left the home of the defendant's estranged wife.
Butt severed his victim's jugular vein with a foot-long (30cm) knife and then stabbed him forcefully six times in the early hours of 22 June 2010.
The killer then left the scene in Warrington Street and called a taxi to his address in Johnston Street.
He changed out of his bloodstained clothes but left a pair of jeans behind with blood which matched that of Mr Ahmed.
Later the same morning he boarded a train from Manchester to Edinburgh and remained at large for two weeks as he shaved off his beard in a bid to evade the police.
He was arrested after CCTV images of him captured on the rail journey were released by detectives.
Mr Ahmed, who was also married, had been having an affair with Butt's wife Shakra Ali.
The jury was not told that Butt had a previous conviction for assaulting his wife in July 2009. He admitted that offence after telling police he still loved her despite her having a number of affairs.
Det Supt Neil Hunter, of Lancashire Constabulary's major investigation team, said: "The level of violence used was incomprehensible and Naeem Butt deserves to spend a very long time behind bars.
"The murder was born out of a combination of factors, including rage, jealousy, revenge and also an element of honour."