Youth custody death boy was 'disturbed' by treatment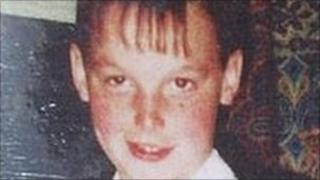 The youngest person to die in youth custody could have killed himself because he was physically restrained and hit on the nose, an inquest heard.
Consultant forensic psychiatrist Dr Hilary Grant said Adam Rickwood, 14, was "disturbed" by the restraint.
Adam, of Burnley Lancashire, was found hanged at Hassockfield Secure Training Centre, County Durham, in August 2004.
Assistant deputy coroner Jeremy Freedman has started his summing up at the hearing in Easington.
'Extremely troubled'
Dr Grant, giving evidence at the inquest, was asked to comment on whether six specific factors "more than minimally contributed" to him choosing to take his life.
The jury has been told Adam was an "extremely troubled and vulnerable young man" with a history of cannabis abuse when he was sent 150 miles from his home town on remand after he was charged with wounding another youth.
On the day he died, Adam had rowed with a female member of staff in the association area and was lifted by four care officers and placed face down in his room.
On the way, care officer Steve Hodgson had used the controversial Nose Distraction Technique (NDT) - a sharp painful blow - to stop the boy from trying to bite him, the inquest was told.
Adam's nose bled afterwards and he was left alone in his room to calm down.
Dr Grant said Adam had written a note after being restrained which revealed his feelings.
"He seemed to be disturbed by it," she told the inquest.
Loss of privileges
"He felt it was disproportionate.
"I would conclude it was a more than minimally [a] contributing factor."
She felt the use of NDT fell into the same category.
Although she agreed that other factors which may have contributed to him making the decision were, his vulnerability; being held 150 miles from home; recent loss of privileges at the centre and finding out a bail hearing was not going ahead the next day.
Mr Freedman told the jury it would have to consider 16 questions.
He said that nine would relate to events in the run-up to Adam's death, three about staff training, two about the involvement of the Youth Justice Board, one about the Hassockfield regime and finally to consider the factors that might have contributed more than minimally to his death.
He added: "This has been a wide-ranging and extensive inquiry and rightly so because there are very important issued to be ventilated in the public arena."