'Gaps in Blackburn love rival murder trial'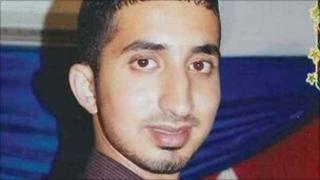 Gaps in evidence mean a man should not be convicted of killing his love rival in an alleyway, a jury has been told.
Saheel Ahmed, 24, bled to death in Blackburn, Lancashire, after his throat was slit, Preston Crown Court heard.
Naeem Butt, 38, is accused of murdering Mr Ahmed, who was having an affair with his wife, after lying in wait for him.
Mr Butt, of Blackburn, who denies murder declined to give evidence, but his barrister said the case had "a huge number of unanswered questions".
In his closing speech to the jury, Peter Wright QC, said: "I am not going to pretend to you anything other than that is a deeply disturbing case and I am not going to pretend anything other than that it is a deeply suspicious one."
Blood on jeans
Mr Wright said Mr Butt was being picked up in a taxi in Cedar Street at the same time as one of the witnesses told the emergency services the attacker had emerged from the alleyway.
"He cannot be in two places at once," Mr Wright said.
The barrister said the witness's description of the killer was also inconsistent with Mr Butt's appearance and clothing on the night of 22 June.
There was no evidence he had blood on him as he travelled home in the taxi, he added.
Mr Ahmed's blood was found on a pair of jeans at Mr Butt's home but Mr Wright said it could not be shown when or how it got there.
Mr Butt travelled to Edinburgh after the killing. Mr Wright said that was not proof he had committed a crime and it could have been a reaction to his relationship breaking down.
Mr Butt was said to have called his mother-in-law, telling her: "That lad is dead and you people should leave the house."
Mr Wright said news of the death had already spread by the time the alleged remarks were made.
He said: "We say the evidence in this case is incapable of establishing guilt.
"There remains considerable gaps. We say in each and every element of the case there is a flat contradiction."
The trial continues.