Colin Hendry's drink and gambling fight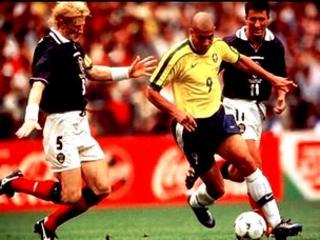 Former Blackburn Rovers and Scotland footballer Colin Hendry has told how he battled alcohol and gambling following the death of his wife Denise.
Hendry, who was declared bankrupt in June, said caring for his four children and dealing with the bankruptcy process was helping him turn his life round.
His wife died in 2009, seven years after a failed liposuction operation.
Hendry, 45, said: "I'm not a bad guy, I've made mistakes in my life, like most people have."
Hendry, who lives in Lytham St Anne's, Lancashire, spoke of how his wife's death had hit him hard.
"It is very cruel for someone to lose their life, she was a very happy-go-lucky lady, a beautiful woman, great mother... just the best," said the former Scotland captain.
"I did drink quite a lot initially; alcohol seemed to be a get-out for me.
"Really there is nothing you can do, all that you can do is try to put a smile on the kids' faces."
A bankruptcy hearing was told that online betting firm SpreadEx was one of Hendry's creditors.
'Best I can'
He told BBC Radio Manchester: "I gambled, not as badly as has been reported, it was a get-out for me - that's what I've done wrong, as well as having a drink.
"Since summertime I've tried to do things the the correct way, the best I can and that is, A, look after my family, and B, work hand in hand with the bankruptcy process."
Denise Hendry died in 2009 aged 42 from a meningitis-type infection after an operation to correct cosmetic surgery.
She had been on life support for six weeks in 2002 after she suffered multiple organ failure following a liposuction procedure at a private hospital.
She suffered nine punctures to her bowel and colon during the original operation at Broughton Park hospital near Preston and later developed blood poisoning.
Lawyers later secured a six-figure damages settlement in November 2006, while the surgeon voluntarily applied to be removed from the General Medical Council's register.
Colin Hendry, who started his career with Dundee, was capped 51 times for Scotland and was one of the stars of Blackburn Rovers' Premiership-winning team of 1994/95.
He also played for clubs including Manchester City, Glasgow Rangers, Bolton Wanderers, Coventry City, Preston North End and Blackpool, and managed Blackpool and Clyde.
You can hear Colin Hendry's full interview on Manchester Sports: In The Spotlight 1800 GMT BBC Radio Manchester or iPlayer.