GMB claims 6,000 Lancashire County Council jobs at risk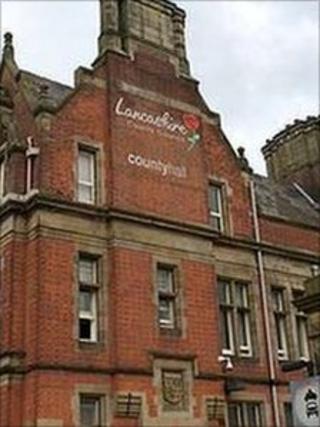 The GMB union has said that 6,000 jobs are under threat at Lancashire County Council.
It claimed the posts were threatened by £179m budget savings announced by the Conservative-run local authority earlier this month.
The GMB said the figure was given to officials at a meeting with council managers last November.
Lancashire County Council said the union was wrong and the number of cuts would be "nowhere near" 6,000.
Paul McCarthy, GMB regional secretary, said: "Cuts to the level of £180m will be devastating for jobs and services provided by Lancashire County Council.
'Irresponsible claim'
"Cuts of this magnitude means that more than 6,000 jobs, part of the 24,000 non schools workforce employed by the council, are at risk over the next three years."
Council leader Geoff Driver said: "The GMB's statement is irresponsible and wrong.
"We have never stated a figure of job losses we will have to make as a result of cuts to our grant.
"We don't think that would be helpful for our staff or the public and we're striving to keep the figure to a minimum.
"We are confident it will be nowhere near the number quoted by the GMB and the reductions will be achieved through a combination of voluntary severance and redeployment."