Pendle Council limits compulsory job losses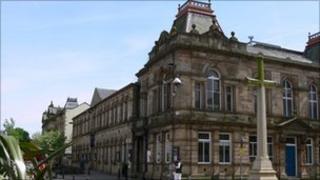 The number of compulsory redundancies being made at a Lancashire council has been reduced from 76 to 23.
Pendle Council had planned to make 76 people redundant, largely as a result of cuts in government funding.
The number has now dropped through deleting vacant posts, retirements, voluntary redundancies, job shares and flexible working arrangements, it said.
The news came after the council's political group leaders approved final details of its restructuring proposals.
Councillors Mike Blomeley (Conservative), John David (Liberal Democrat) and Mohammed Iqbal (Labour) met to discuss the proposals following consultation with trade unions and staff.
The council said the restructuring, along with regrouping services and reducing accommodation costs, would save council tax payers about £600,000 in the next two years.
Mr Blomeley said: "The restructuring exercise has been a genuine consultative process and I thank the trade unions and staff for their participation and co-operation."