Burnley's Clarke Carlisle to go on BBC's Question Time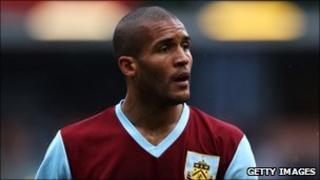 Burnley star Clarke Carlisle has appeared as a Question Time panelist.
The defender was the first professional footballer to appear while still playing for a club, the producers of the BBC programme said.
Carlisle, 31, appeared on the discussion programme broadcast from Burnley on Thursday.
Environment Secretary Caroline Spelman, Deputy Liberal Democrat Leader Simon Hughes, former MP George Galloway and Alastair Campbell also appeared.
The former Labour spin doctor is a well-known Burnley FC fan.
Carlisle, who is also chairman of the Professional Footballers' Association, said he was originally asked to go on a pre-election programme on BBC 3, aimed at 20 to 40-year-olds.
'Layman's perspective'
The BBC then said it would prefer it if he went on the main programme, he said.
"I am looking forward to it and I will be sat up there with Mr Campbell, which will be nice," he added.
"I don't consider myself to be a politics buff by any stretch of the imagination, but with the economic crisis, having a young family and the recent election, my wife and I started to take a keener interest and I just hope I can give a layman's perspective on things."
Carlisle fulfilled a lifetime ambition by appearing on Channel 4's Countdown show last February.
The player was also crowned "Britain's Brainiest Footballer" in an ITV show in January 2002.
Programme editor Ed Havard said Carlisle's appearance would "probably feel very different to his victorious appearance on Countdown, but he will be part of a long tradition of panellists on Question Time who bring a perspective on topical events from well outside the Westminster 'bubble'".
He said: "Who knows, his performance on Thursday may also encourage other footballers to take on the Question Time challenge. Not Wayne Rooney perhaps, but we've heard Frank Lampard is an avid viewer."
Question Time was broadcast on BBC One at 2235 GMT on Thursday 20 January and available on BBC iPlayer after transmission.