Blackburn man 'slit throat of love rival'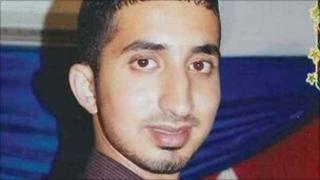 A skilled butcher slit the throat of a man who was in a relationship with his wife, stabbed him six times and left him dead in an alley, a court heard.
Naeem Butt ran the 1ft (30cm) knife completely through the body of Saheel Ahmed in the attack in Blackburn, Preston Crown Court heard.
The 24-year-old was killed on 22 June 2010 - about a month after Mr Butt's wife, Shakra Ali, left her husband.
Mr Butt, 38, of Johnston Street, Blackburn, denies murder.
The court was told that the defendant called his mother-in-law after his wife left, telling her he was "really angry" with her "immoral relationship".
'Murder in mind'
Louise Blackwell QC, prosecuting, told the jury Mr Butt had been lying in wait for his victim at an address in the town.
"What he had on his mind was murder," Miss Blackwell told the court.
Mr Ahmed emerged from the house to get in a taxi at about 0140 BST and his attacker pounced, she added.
The taxi driver heard Mr Ahmed scream, jump out of the taxi and run for his life up the street, pursued by Butt shouting at him in Punjabi, jurors were told.
Two brothers who lived close by were concerned about the noise and went outside, where they found the victim lying dead in an alleyway covered in blood.
The court heard that Mr Butt changed out of his clothes but left a pair of jeans behind at his house with bloodstains that matched the victim.
He fled the area and was arrested two weeks after the killing on Drummond Road in Edinburgh.
The trial continues on Wednesday.