Agencies 'failed' murdered Charlie Hunt, says report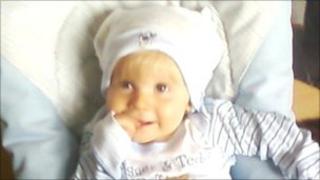 Agencies involved in the care of a 15-month-old boy who was murdered by his mother's boyfriend failed to spot the potential for harm, a report said.
Charlie Hunt, of Earby, Lancashire, died from head injuries in November 2009 after a catalogue of abuse.
His mother's partner Darren Newton, who filmed himself abusing the child on his mobile phone, was jailed for life.
Lancashire Safeguarding Children Board said it was not possible to predict the abuse but said lessons must be learned.
The multi-agency serious case review, published on Monday, concluded that there was evidence of "gaps in information sharing and planning between professionals and a failure to recognise the potential for harm" to Charlie, known as Child AB.
It added that there was an "over optimistic view of the capacity" of Charlie's mother to safeguard him.
"Whilst it was not possible to predict that Child AB would have been harmed in the manner it is alleged he was, there are significant and very familiar lessons that need to be learned about how professionals and agencies can work collaboratively to safeguard children," it said.
The report said that Charlie's mother, Laura Chapman, had a history of relationships in which she was the victim of domestic abuse and concerns had been raised about her parenting of her two older children when she lived in Bradford, West Yorkshire.
Those children, who lived with her former partner - who is not Charlie's father - were subject to care proceedings after allegations he assaulted one of them.
Two months before Charlie's death, in September 2009, Ms Chapman took him to a GP after he vomited and had unexplained bruising on his hands.
Three days later he was taken to hospital after suffering a convulsion. He died in November after suffering a fit.
Ms Chapman was unaware of Newton's abuse of her son, which happened while she was at work, and the report underlines she was in no way responsible for what happened to him.
It said medical assessments did not consider child abuse in explaining Charlie's convulsions and bruising and said a scan "might have revealed abnormalities that would have raised questions about physical maltreatment".
There was also enough information held by the GP who saw Charlie to consider abuse and the failure to explore this further was also a "missed opportunity".
'Heartbreaking'
Although it was "extremely unlikely" that Newton would have been identified as a risk to Charlie there should have been a more cautious approach to his involvement with the family, the report said.
Authors have made nine recommendations of improving practice for all agencies, as well as more than 80 individual recommendations.
In a joint statement, Nigel Burke, chair of Lancashire Safeguarding Children Board, and Professor Nick Frost, chairman of Bradford Safeguarding Children Board, said: "The death of a young child is always tragic.
"It is heartbreaking for family and friends, particularly so when abuse is involved, and our thoughts remain with the family of this child."
They added that both boards had developed action plans to implement the recommendations, which were now under way.