Pendle council lobbies minister on grant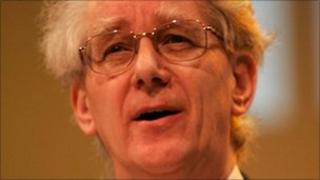 Senior officials from a Lancashire council have been lobbying the government to recover £1m they claim is missing in grants.
Pendle Borough Council believe the government miscalculated the figures on the authority's local government finance settlement.
Chief executive Stephen Barnes outlined their concerns with housing minister Andrew Stunnell on Wednesday.
They are expecting a decision from the government next month.
The Department for Communities and Local Government said it was one of a number of meetings between ministers and councils held during the week.
Mike Blomeley, the Conservative leader of the council - which is in no overall control - joined Mr Barnes at the meeting.
Councillor Blomeley said: "When the settlement was announced in December, we said we would fight for a better deal for the people of Pendle.
"We believe that the government's initial calculations for Pendle were incorrect."
'Look again'
The chief executive argued that Pendle's allocation of transition grant was "potentially" more than £1m short.
"We have asked the minister to encourage his government to look again at the figures."
They also urged the government to recognise that Pendle Council still has existing financial commitments under the now-scrapped Housing Market Renewal (HMR) programme.
The council said allocating more money for HMR would allow it to complete projects that had already begun.
Mr Stunnell told delegates that he would consider the representations and announce a decision in mid-February.
A department spokesman said the minister was one of a number taking representations from local councils throughout the week.