Secure centre officer struck boy on nose 'on instinct'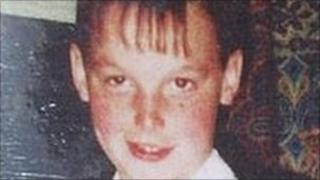 A care officer hit a 14-year-old detainee on the nose "on instinct" hours before the teenager killed himself, an inquest has heard.
Adam Rickwood, of Burnley in Lancashire, was found hanged at Hassockfield Secure Training Centre, County Durham, in August 2004.
Care officer Steve Hodgson said he twice warned Adam he would use the nose distraction technique (NDT).
Mr Hodgson was arrested on suspicion of assault in 2005, but was not charged.
Adam, the youngest person to die in custody in modern times, was found hanged in his room.
The court heard Adam was left face down on the floor bleeding by four members of staff, who had used the physical control in care (PCC) technique - lifting the eight stone (51kg) boy by the arms and legs and holding his head.
Giving evidence at the inquest in Easington, County Durham, Mr Hodgson said he gave a "short, sharp burst to the nose" with two fingers under the nostrils as the teenager thrashed about.
He said Adam had been refusing to comply with an order to go to his room following a dispute with a female staff member.
The High Court has since ruled that NDT is unlawful at any time and PCC should only have been used if a detainee was threatening violence, damaging property or trying to escape.
'Trained instinct'
Officers believed in 2004 they were allowed to use PCC to ensure good order and discipline, despite the training centre rules expressly saying it could only be used in emergencies, the inquest has heard.
During a police interview, Mr Hodgson said: "I obviously went with my instinct."
Rajiv Menon, for the boy's family, said: "You are admitting you went on instinct, as opposed to the rules."
Mr Hodgson replied: "Instinct, by my training."
Fearing he was about to be bitten, he said, he twice warned Adam that he was going to use NDT. Adam's nose bled soon after Mr Hodgson used the technique.
The former care officer, who left Hassockfield in 2005, said he visited Adam about two hours later in his room, adding: "I didn't want to go home (without seeing him), knowing what had happened.
"Obviously that's not the type of person I am."
The inquest, expected to last three weeks, continues.