Blackpool Council asks for better deal in spending cuts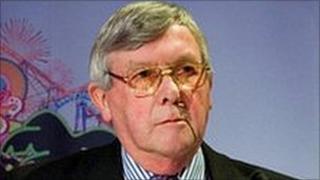 A Lancashire authority is preparing to lobby the government for a better financial deal in the spending cuts.
Blackpool Council is working on sending a delegation to London to urge Communities Minister Eric Pickles to give the resort more money.
The Conservative leader of the council, Peter Callow, said Blackpool had been hit twice as hard as many other areas.
"When Eric Pickles is talking about 7.5% cuts, it is 14% in Blackpool," said Mr Callow.
"And we're in an area with severe deprivation."
He said the authority was "turning the town around" but it was impossible to regenerate Blackpool and make £29m of cuts.
"There are areas we want to improve, and we are improving them, but we can't be locked into these cuts and manage to do all we want to do, so obviously we're fighting the cuts."
'Every means'
Mr Callow said Prime Minister David Cameron had a vested interest in Blackpool and hoped this would help boost the authority's case.
"The prime minister has shown a particular interest in Blackpool because we won Blackpool three-and-a-half years ago after 18 years of Labour, and David Cameron came up to see us then.
"It is one of the main authorities he wants to keep and so I'm going to use that."
He added: "I'm going to use every means at my disposal and if I tell Eric Pickles the prime minister has taken a special interest in Blackpool then maybe, just maybe, he will listen to that."
A spokesman from the Communities and Local Government department said ministers had taken "a progressive, fair approach" when calculating the funding for local government grants and that "more money is being channelled at those areas of the country that have the highest levels of need".
In a statement, the department said: "Reductions to council spending reflect the urgent need for the public sector to help put the country's finances back in order, keep interest rates down and prevent national debt escalating to £1.4 trillion of taxpayers' money.
"Ministers are clear that the settlement represents a fair deal that will enable councils to protect the front-line services people rely on, shield the most vulnerable places, safeguard the most vulnerable people and protect taxpayers' interests."