Jack Straw's comments on abuse 'are true'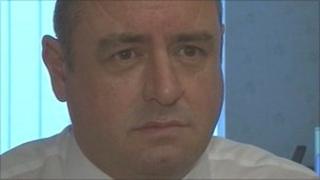 A retired Lancashire detective has backed Jack Straw for speaking out over the sexual exploitation of young white girls by men of Pakistani origin.
Blackburn Labour MP Mr Straw suggested some white girls were seen as easy targets for sexual grooming.
Former Det Supt Mick Gradwell said it was an issue that had been clear for many years and needed to be addressed.
He said investigations into the sexual exploitation of children had suffered because of political sensitivity.
"I know that police officers know what they're saying is true, but they're not coming out and saying it because you can't feel comfortable, because of allegations of institutional racism, that you can come out and say that a culture or a race is suspected of this sort of crime.
"If there were people who frequented a particular public house, who were going out and doing things, you would target that particular trend," he said.
"There is without doubt a trend, as Mr Straw says, in a small number of men of Pakistani origin, who regard young, white girls as easy meat."
'Difficult' subject
Mr Gradwell, who retired from Lancashire Constabulary in 2009, said he hoped the former home secretary's comments would lead to a reduction in these sorts of crimes.
"What will be interesting is if, as a result on the debate on Mr Straw's comments, is whether first of all these offences reduce, and secondly whether actually information comes forward to detect some previously undetected offences.
"If crimes do reduce, it has been worthwhile saying it.
"It's difficult to talk about. Really it's only somebody like Jack Straw, a former home secretary who has represented Blackburn, a diverse community, for 31 years, who could come out and say what he said."
Mr Straw made his comments after two Asian men who abused girls in Derby were given indeterminate jail terms last Friday.
Mohammed Liaqat, 28, and Abid Saddique, 27, were jailed at Nottingham Crown Court for raping and sexually abusing several girls aged between 12 and 18, often after giving them alcohol or drugs.
The judge in the case said the race of the victims and their abusers was "coincidental".
But Mr Straw told the BBC's Newsnight there was a "specific problem" in some areas and called on the Pakistani community to be "more open" about the abuse.
Keith Vaz, Labour chairman of the home affairs select committee, said it was wrong to stereotype a whole community and a proper inquiry was needed.
Mr Vaz, who said he represented many men of Pakistani origin in his Leicester East constituency, said: "What I don't think we can do is say that this is a cultural problem. One can accept the evidence which is put before us about patterns and networks but to go that step further I think is pretty dangerous."
In a separate development in Rochdale, Greater Manchester, nine Asian men aged between 20 and 40 have been questioned on suspicion of rape and inciting child prostitution.
Police have not confirmed the ethnicity of the men - they say it is against their policy.