Drugs farm found in former mill in Nelson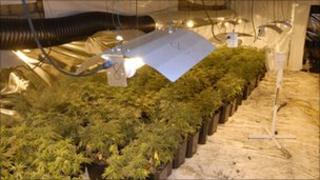 Cannabis plants with an estimated street value of about £1m have been discovered at a former mill in Lancashire.
Police say they believe it is one of the largest cannabis farms ever found in east Lancashire.
Officers raided the disused mill in Brook Street, Nelson, on Monday morning and found about 1,400 cannabis plants and electrical equipment.
They took action after receiving a tip-off from members of the public.
'Significant fire risk'
Insp Paul Leigh, of Lancashire Police, said: "This was a sophisticated and professional set up.
"These factories are set up by organised criminals and not only perpetrate the large scale supply of illicit drugs but also commit significant environmental damage.
"United Utilities have estimated the electricity abstracted on a set up of this scale would be in the region of £30,000.
"The building is a significant fire risk and could have put people's lives at risk."
Anyone with information is asked to contact Lancashire Police.