Record UK sales for Fleetwood brand Fisherman's Friend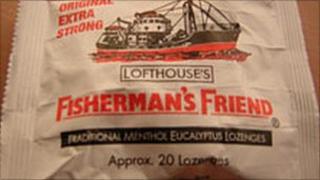 One of Lancashire's most famous businesses has announced record sales.
Sales of Fisherman's Friend were up in December by 28.7% in the UK on the same period the previous year.
It is the biggest increase in domestic sales in the history of the Fleetwood-based company since it was set up in 1865 by pharmacist James Lofthouse.
Martin Stimson, area manager for the lozenge brand, said the recent TV advert and the cold snap has boosted sales.
He explained: "The Lofthouses decided to invest money in the home market in January 2010 with their first TV advertising campaign for 14 years and it's certainly paid off."
Export demand
Mr Stimson continued: "Also, we always tend to do well whenever there are high incidents of colds and respiratory problems and the rates are more than double on last year.
"We're delighted we're doing extremely well in the current climate."
The brand last experienced a big rise in UK demand in November 2009 when the pure aniseed ingredient was discovered to be a component in the swine flu treatment Tamiflu, according to the firm.
One hundred and twenty countries import the product and of every 100 packs sold, 96 are exported.
Germany is the top importer, followed by Thailand and Holland.