Plans for major lottery bid for Morecambe Bay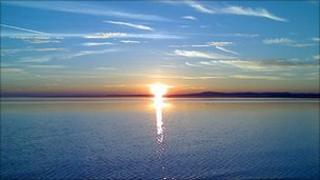 A major lottery bid is being put together aimed at improving the wildlife habitats and heritage of Morecambe Bay.
The £2m bid is being co-ordinated by the Morecambe Bay Partnership.
Susannah Bleakley, who is co-ordinating the application, said if successful it will make a big difference to the coastline, not just wildlife habitats.
"We want to look after the bay and all the things that people value around the bay," said Ms Bleakley.
"It will also include people and cultural heritage, and views and landscapes and add value to people's stories, maybe to people who have worked on the bay such as fisherman and cocklers.
"We want to capture all the things people value about the bay but in terms of habitats we want to create measures to join up habitats better and to improve the ground nesting birds and the rooster sites for some of the waders and wildfowl."
She added: "It could bring significant benefits as we have never had the resources to look after the bay in a co-ordinated way and to really care for the bay long term for the habitats and the cultural sites."
The application has to be submitted by the end of February 2011.