New Blackpool tram design unveiled by council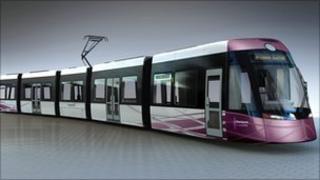 Blackpool people are being given their first chance to see how the resort's new trams will look with the council's unveiling of a model.
A fleet of 16 Bombardier Flexity 2 trams is being built in Germany and Austria, with the first one due to arrive in Blackpool in August.
An exhibition detailing the £100m tramway investment will be staged at the Solaris Centre from Tuesday.
After tests, the trams are expected to go into service from Easter 2012.
'Passenger safety'
Funded by Blackpool Council, Lancashire County Council and the Department for Transport, they will run alongside the existing heritage trams on Blackpool's promenade.
A Blackpool Council spokeswoman said: "The latest design has a clear focus on passengers with high levels of comfort and safety.
"Highlights include a 100% low floor design for easy access, maximised aisle width throughout, state-of-the-art video surveillance equipment to improve passenger safety and an improved heating and ventilation system.
"Blackpool is Bombardier's first customer for the Flexity 2 models and the town will be the worldwide launch pad for this next generation of trams."
Councillor Peter Callow, leader of Conservative-run Blackpool Council, said: "The anticipation for the arrival of the new trams is growing and this exhibition will give people a sneak preview of what to expect.
"The new tram depot at Starr Gate will be a great new home for the trams as they start arriving throughout the summer."