MP' s Call for Eric Morecambe museum in Morecambe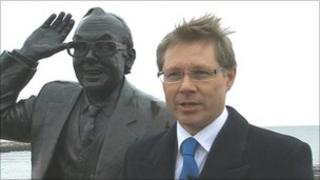 Morecambe's MP has called for a museum in the resort honouring legendary comedian Eric Morecambe.
David Morris, Conservative MP for Morecambe and Lunesdale, said having such a landmark was long overdue.
"We need an Eric Morecambe museum whether it's in the Winter Gardens or some other venue on the prom I'm absolutely certain," he said.
Mr Morris said he was talking to Local Government Secretary Eric Pickles to see what funds were available.
Promenade statue
Mr Morris said he believed there could be money available under the government's Community Assets Programme to honour the Lancastrian half of the comedy double act Morecambe and Wise.
The calls echo that made by the comedian's son Gary in 2009.
Eric Morecambe is already honoured by his home town on the seafront with a statue which was unveiled by the Queen in 1999.
Born John Eric Bartholomew, his partnership with Ernie Wise lasted from 1941 until his death at the age of 58 in 1984.