Ballet teacher sentenced for abducting teenage boy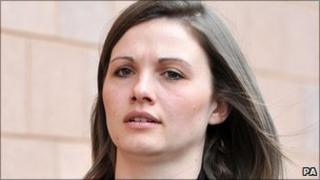 A ballet teacher who admitted abducting a talented and vulnerable 15-year-old pupil has been given a 35-week suspended jail sentence.
Sarah Pirie took the teenager from his legal guardians in May last year, Preston Crown Court heard.
Pirie, formerly of Dundee, was a ballet teacher and choreographer in north-west England when the abduction took place.
The 27-year-old previously denied five counts of sexual activity with the boy. The charges were dropped in November.
The sentence for Pirie, now of Marner, Luxembourg, has been suspended for two years.
Colleague warnings
The court was told she committed a "serious breach of trust" when she met the boy and gave him a lift in her car a week after she was banned from having any contact.
The pair had met when Pirie was teaching at Clifton Dance Academy in Lytham St Annes, Lancashire.
Judge Michael Byrne, sentencing, accepted there was no sexual activity but told Pirie she "went past the boundaries" of her employment.
Colleagues at the academy had repeatedly warned her about getting involved in the boy's personal life, the court heard.
The court heard she is suspended from working with children and her conviction will effectively make the ban permanent.
The court was told today that the complainant now accepted no sexual activity took place and verdicts of not guilty on those counts were ordered to be returned.
Sarah Johnston, prosecuting, said the victim was 15 at the time of the offence and was living with foster parents.
"The defendant regularly escorted the complainant to and from rehearsals and auditions," said Ms Johnston.
After being suspended in April 2009, Pirie was warned not to have any further contact with the boy and on 13 May was served with a formal order under the Children's Act.
But on 22 May the boy asked her to give him a lift to Manchester and back, which she agreed to do, the court heard.
Police interviewed the youngster the following month about the meeting and Pirie was later arrested and questioned.
"She asserted that the complainant was manipulative and threatening and that was the only reason that she made further contact with him," the prosecutor said.
'Wonderful hindsight'
Sarah Booth, defending, said the boy had talent and Pirie had wanted to help him progress.
Ms Booth said: "He presented himself as someone who was missing his family and was adrift
from his foster carers. He quickly saw her as a means of transport."
"Things turned and he began to manipulate her and said if she did not see him he would make allegations to the police. On one occasion he said he would kill himself.
"Hindsight being a wonderful thing, she knows that the contact was something she should not have done."
Ms Booth said there had never been any sexual contact, which she said was a "far cry from the Mrs Robinson-style relationship outlined in the Press".
The case was investigated by Blackpool's Awaken team, which tackles child sexual exploitation, after officers were contacted by Pirie's employers.
Speaking after sentencing, Det Insp Tony Baxter said: "Pirie clearly abused her position of trust in having an inappropriate relationship with this young man."