Lancashire County Council outlines £179m cuts plan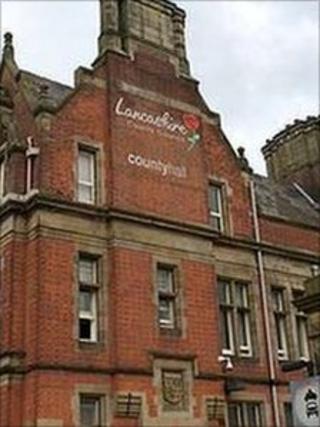 Lancashire County Council has outlined how it plans to save £179m over the next three years.
Nearly 70% of the cuts are in front-line services.
Closing five children's homes and four recycling centres, reducing bus routes and social care and increasing parking charges are among the measures planned.
The council's 78-page budget document also states that street lighting will be reduced and ageing bus stops will not be replaced.
Councillor Geoff Driver, leader of the Conservative-controlled authority, said he could not yet say how many jobs would be lost.
"I don't think anybody knows," he said.
"I'm going to say sorry because it's not something I want to do, but it's about needing to cut your suit according to your cloth."
Jennifer Mein, leader of the county council's Labour group, said she was shocked at the extent of the cuts in front-line services.
"This is devastating," she said.
Among the services cut will be home helps for vulnerable adults and children in need and transport for children with special needs.
Roads in some parts of the county will have street lights switched off and 25, mainly rural, bus services across Lancashire are being cut back.
Parking charges will rise in Preston and Lancaster and will be in introduced for the first time at the country parks in Beacon Fell, Wycoller and Crook O'Lune.
Forty hectares of new tree planting has also been scrapped.