Businesses clean-up after fire destroys Preston mill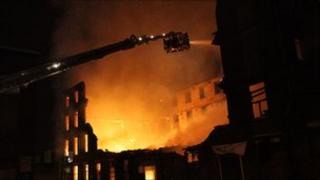 Businesses are continuing to clear-up following a fire which swept through a former mill in Preston.
About 70 firefighters spent several hours tackling the flames at the four-storey building in Kent Street on Friday.
No-one was injured but part of the building collapsed and it will now have to be demolished.
Investigations are continuing but the cause of the fire is not currently being treated as suspicious.
Crews managed to save 60 motorcycles that were stored on the ground floor of the mill but IQRA Education Centre, an Islamic teaching centre, was destroyed.
The fire broke out before about 200 students were due to arrive for evening study.
Firefighters praised
Building manager Ismail Rawat said: "It's an old mill building and obviously with that the actual building will go up very quickly.
"The firefighters did a fantastic job in containing that."
One of the worst-affected businesses was ESP bathrooms, which occupied a large part of the building.
Staff returned to work on Monday and set up in the company's showroom in an adjacent building, even though that remained without power.
Spokesman Junaid Bhayat said: "We're trying to serve as many customers as we possibly can because we took a long time to build these customers and the last thing we want to do is lose them."
Staff have been examining stock to assess damaged caused by the fire.