Lancashire firms sign up for Darwen tower repairs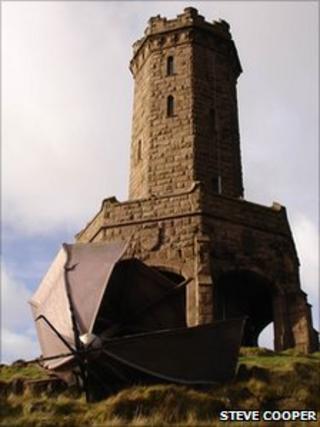 Six companies and two councils have joined forces to repair a Lancashire landmark damaged in strong winds.
The fibreglass dome and weather vane were blown off the top of Jubilee Tower in Darwen during winds of up to 80mph (129km/h) on 11 November.
The local firms are repairing the 85ft (26m) tower, which was erected in 1897, for the cost of materials.
Collection boxes have been distributed around Darwen town centre for public contributions to the restoration.
The tower, built to commemorate the diamond jubilee of Queen Victoria in 1897, is open to the public now the summit has been made safe.
The six firms, which are giving their labour free of charge, will start repairs in March 2011.
Work will involve repairing the dome and weather vane, erecting scaffolding around the tower and fixing damaged fences and pathways at the site.
It is being led by Blackburn with Darwen Council, which owns the tower, in conjunction with Darwen Town Council.
Councillor Andy Kay, executive member for resources, said: "It's good to see both Blackburn and Darwen companies together with the people of Darwen supporting our heritage and restoring the Jubilee Tower to its former glory."
The tower was one of a number of county landmarks damaged during the storms which struck on 11 November, but it was not the first time its roof had blown off.
Gales blew away the original wooden turret that crowned the tower in 1947 and it remained turret-less until Darwen Mayor Bill Lees launched a fund for a new dome in 1971.
The refurbished tower was opened on 18 January the following year.