Fourteen held as EDL and UAF hold protests in Preston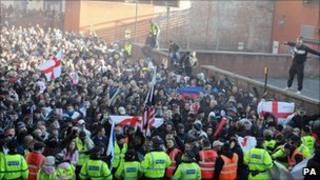 Fourteen people were arrested as rival protests attracted more than 1,100 people to Preston city centre.
Police said more than 1,000 people attended a protest by the English Defence League (EDL) and about 150 counter-demonstrators from Unite Against Fascism (UAF) gathered nearby.
Lancashire Police said there were minor scuffles among EDL demonstrators but the day was "relatively incident-free".
They said arrests were made for drunken or disorderly behaviour.
Police said officers remained in the city centre after the protests to ensure any remaining demonstrators left the area in a peaceful manner.
Market closed
Troublemakers were warned to stay away from Preston ahead of the two protests.
Stall holders at Preston Flag Market stayed closed.
The EDL said its protest was against the "Islamification of Britain" while UAF said it was protesting in Preston to oppose racism. The EDL denies it is a racist organisation.
Ch Supt Tim Jacques, from Lancashire Police, said: "Although there were minor scuffles amongst the EDL demonstrators, there were only 14 arrests for drunken or disorderly behaviour.
"Today's events have passed mostly without incident and I would like to thank the local community for their help and tolerance during the events and the lead-up to them."