Blackburn raids lead to £100,000 cannabis find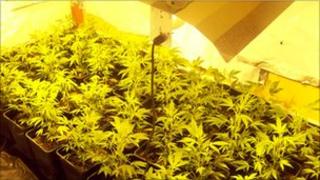 Cannabis valued at almost £100,000 has been discovered during police raids in Lancashire.
Officers found about 200 plants and equipment at a house in New Wellington Street, Blackburn, at 1920 GMT on Thursday. A man, 34, was arrested.
Police also raided a house in Hurstwood Avenue, Blackburn at 0800 GMT on Friday and found 46 more plants and equipment.
A 16-year-old boy and man, 41, were arrested on suspicion of cultivating cannabis.
Pc Olivia Callaghan, of Lancashire police, said: "These are significant seizures which will have undoubtedly disrupted the supply of cannabis in and around Blackburn.
"We are committed to removing drugs from our communities and this action should demonstrate that we will act quickly upon community concerns.
"We rely on communities to help us and would ask anyone with any information or concerns about drugs in their neighbourhood to contact us."