Inside the Lancashire house factory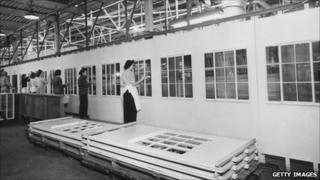 In a cavernous factory once occupied by Blackburn steel magnate Jack Walker, one company is hoping to write a new chapter in Lancashire's industrial history.
Small groups of staff busy themselves in pockets of the 20,000 sq m space, which sits overlooking the Darwen hills. But aside from one cutting machine there is little sign of heavy industry.
Instead, teams of engineers work quietly and efficiently creating huge wooden panels for their products - 10 new houses destined for a plot 240 miles away in Surrey.
This is house building on an industrial scale, using manufacturing processes which the company behind it, Pretek Precision Homes, says can deliver up to 3,500 homes a year.
Given that Pretek's main customers will be housing associations, chief executive Peter Marshall admits the economic climate has given his new company "an even bigger challenge".
But he told the BBC: "For us the opportunity has got to be that we say to our customers: 'Fine, if you've now got even less money, if you work with us on testing and developing the product and then we can then roll it out in significant numbers, we will hit your target price.'
"Because this is the platform that can do that."
Of course, Britain has been here before. Faced with a chronic shortage of housing - and money - after World War II, the government turned to factories to build homes for returning troops.
The cheap, pre-fabricated housing that followed was not a popular addition to architectural landscape and casts a long shadow over modern attempts to factory-build homes.
Can companies like Pretek escape the stigma?
"It's quite easy for all of us to say 'there was an experiment and it didn't work, which means nothing is going to work'," said Mr Marshall.
"That's not the case. Henry Ford's first car was quite basic but how many cars are on the planet now?
"Post-World War II housing - "homes for heroes" - were prepared on an extremely limited budget, and extremely limited raw materials... It was primitive, the range of components they had was limited and the supply to money restricted and those houses were basic.
"There really is no comparison now in terms of the range of components and materials we have access to, half a century later."
So with the country once again facing huge financial pressures and a shortage of housing, could an updated form of prefab housing offer a solution?
Housing associations are under pressure to help build 150,000 new affordable homes over the next four years, but after a budget cut of 63% it seems they will have to find ways of building them for less money.
There are 237,847 households on waiting lists for social housing in the north west of England alone, according to the National Housing Federation (NHF).
The government believes increasing rents on some existing social housing up to to 80% of the local market level will help housing associations meet the cost of building more.
However, the NHF believes the plan will actually lead to a net loss in social housing.
Communications manager Malcolm Struthers told the BBC that housing associations were having to look at "flexible, innovative ways to deliver the massive number of homes required".
"Housing associations for many years have been leading the way in finding new ways to deliver housing and certainly they would be very keen to look at anything that represents value for money, primarily," he said.
"But also housing associations are required by law to provide homes of a very high standard… the requirements and regulations mean that housing associations provide homes of a much higher standard environmentally than private developers.
"So I think if those [Pretek] homes met those needs that will be something they would be very interested in."
Using a model of £870,000 as the average cost of building 10 typical two-bedroom homes, Pretek estimates its methods could save housing associations about £134,000 - or about £13,500 per home.
The NHF said the average build costs paid by its members for social housing units was £110,000 in 2009-10.
One of Pretek's first customers is A2 Dominion, a London-based housing group which has ordered a row of 10 homes for a development in Surrey, due for delivery in the next few weeks.
After spending large parts of his career in countries in Asia and northern Europe where factory-built homes are the norm, Mr Marshall, unsurprisingly, hopes it could start a trend.
"If somebody is passionate about being a traditionalist, good luck to them," he added. "We are passionate about modern manufacturing, delivering a fantastic house.
"I'm convinced this is a fantastic platform to make houses. No question. Now, the mission is showing it to others who are sceptical."