Lancashire Police carries out border checks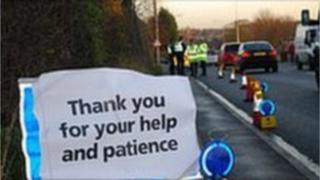 Suspected criminals from Greater Manchester and Merseyside will be stopped at the Lancashire border on Friday.
Lancashire Police will be checking vehicles on major routes into the county from 0800 GMT to 2000 GMT.
The force said they would target would-be burglars, car thieves and suspected armed robbers with similar operations planned in the run up to Christmas.
Officers will hand out information to drivers explaining the initiative.
Det Supt Steve Brunskill said: "Many of the robberies and burglaries committed in Lancashire are by offenders from outside the county. We are working closely with the police in Merseyside and Greater Manchester to target these travelling criminals."
The force said it was focussing particularly on cash in transit robberies in the run up to Christmas due to the large amount of cash in circulation.