First baby for Burnley's new maternity unit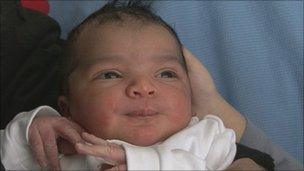 The first baby has been born at Burnley's new £32m maternity unit.
Zamin Ali arrived in the world at the Lancashire Women and Newborn Centre, based at Burnley General Hospital, at about 1730 GMT on Monday.
Parents Imran and Sonia Ali said they were delighted by the arrival of the little boy, who weighed 8.5lbs (3.9kg).
The opening of the new unit, which began admissions on Sunday, is the first of three new birthing centres to open in the region.
It means women will no longer routinely give birth in hospital.
Speaking on Tuesday, Zamin's father - who also has a daughter - said: "I was so happy.
"I can tell him, 'you were the first baby born in this building'... I'm speechless actually.
"I'm so happy my family is complete now - one daughter, one son."
Staff began transferring to the new site earlier in the week and the final patients will be moved on Wednesday.
The building includes a midwife-led birthing centre for women having uncomplicated natural births, and a birth suite for women who may need more assistance with their deliveries.
It contains three birthing pools, private rooms, two operating theatres and a neo-natal intensive care unit.
Midwife Karen Swift said: "It was quite exciting because we've been waiting for this building for such a long time... It's absolutely fabulous."
She told the BBC that both staff and parents were excited by the arrival of baby Zamin.
"It's a moment in history and it's just what everyone's been longing for," said Mrs Swift.
"They [the parents] were absolutely ecstatic, over-the-moon. They were really, really pleased that they were the first parents of this new unit."
Related Internet Links
The BBC is not responsible for the content of external sites.