Murder row judge 'told by CPS' of Jonathan Vass threat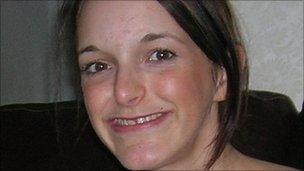 A judge who granted bail to a man who went on to murder his ex-girlfriend was warned about the threat he posed, the Crown Prosecution Service has said.
Jonathan Vass repeatedly stabbed Jane Clough, 26, in Blackpool in July, while on bail for charges of raping her.
Judge Simon Newell said he was not told that Vass, 30, was likely to commit further offences against Ms Clough.
But the CPS has now said it told the judge there was an "extreme likelihood" Vass would interfere with witnesses.
It also said it told the judge Vass had committed violent crimes against Ms Clough, of Barrowford, Lancashire.
Last month, Vass, of Conway Drive, Preston, pleaded guilty to murdering the mother of his child in the car park of Blackpool Victoria Hospital.
The judge presiding over that case, Judge Anthony Russell QC, jailed him for life with a minimum term of 30 years.
The rape charges were ordered to lie on file.
On Monday, Ms Clough's parents Penny and John told the BBC they believed Judge Newell was responsible for their daughter's death.
"He had the power as a judge to remand Vass in custody and keep Jane safe," Mrs Clough, of Barrowford, said.
The Judicial Communications Office (JCO) said the judge had worked within the framework of the Bail Act 1976, which gives a presumption of bail except in specific circumstances.
Bail was granted with the conditions that Vass live at a specified address, that he was not to contact Ms Clough, either directly or indirectly, and that he was not to enter Burnley or Pendle except to attend court or for appointments with his solicitor.
The JCO added: "In this case, at no stage was the judge told of any concerns expressed by Ms Clough in relation to her safety, nor was there any evidence presented to the court that Mr Vass was likely to commit further offences against her.
"Mr Vass was a paramedic of previous good character."
The CPS said it successfully opposed bail when Vass first appeared before magistrates, charged with rape, in December 2009.
However, the defence appealed against the decision to remand him in custody at the crown court on 11 December.
"The prosecution opposed that application on the grounds that there were substantial risks that he would interfere with witnesses, particularly with Jane Clough, and a strong likelihood that he might abscond," the CPS said.
"The prosecution case put before the judge was that the defendant had been committing offences of rape and serious sexual assaults - which by their nature are violent crimes - against Jane Clough, for a number of months.
"The prosecution told the court that it was an 'extreme likelihood' that the defendant would interfere with witnesses when and if he had the opportunity.
"This was recognised by the defence and when the court granted bail, one of the conditions was for Jonathan Vass not to contact, directly or indirectly, Jane Clough."
Related Internet Links
The BBC is not responsible for the content of external sites.