Preston choir conductor commutes from Bologna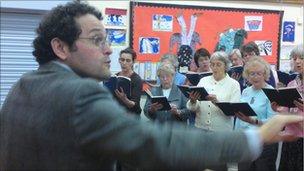 A conductor who commutes from Bologna to Preston each week to lead a choir has said there are "more opportunities" for choral music in Lancashire.
Marco Fanti, 34, became conductor and director of the Preston Cecilian Choral Society in September.
He now makes a 2,000 mile (3,200km) round trip each week to lead the group.
The eight-hour journey includes travelling by train to Bologna airport, flying to London Stansted or Edinburgh, and catching a train to Preston.
Mr Fanti, who also teaches music at the University of Bologna, said he forgets about the long commute when he starts working with the singers, at a local primary school.
Mr Fanti said: "I think in Lancashire it is possible to conduct (a) choir and have more opportunities about choral music.
"In Italy, singing means pop or very, very light music or opera."
The standard of choirs is not as high as in the UK, he said.
Mr Fanti is hoping to move to Lancashire in the near future.
Related Internet Links
The BBC is not responsible for the content of external sites.