Blackpool 'working to improve life expectancy'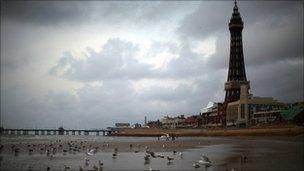 "Significant work" is being done to improve health and life expectancy in Blackpool, the health trust has said.
The resort has the worst life expectancy for men in England, research commissioned by the BBC has found.
Men living in the resort have a life expectancy of 73.7 years, compared to Kensington and Chelsea in London at 84.4 years - the highest in England.
The research, by Experian, looks at how different areas of England will be affected by age-related issues.
Women in Blackpool have the fifth lowest life expectancy in England, at 79.4 years, behind Manchester (79.1), Liverpool (79.2), Halton (79.2) and Blackburn with Darwen (79.3).
A spokeswoman for NHS Blackpool, the primary care trust, said: "The town faces many complex challenges.
"It is the 12th most deprived local authority in England with high levels of unemployment, deprivation, crime, domestic abuse and looked-after children.
"These economic factors impact on health and as a result Blackpool has the worst life expectancy rates in the country for men and women, as well as the highest rate of suicides and high prevalence of mental illness.
"Significant work is taking place in the town to turn the tide."
She said a "major health campaign" had been launched in the resort.
The trust is working with Blackpool FC and Blackpool Council on a campaign called Altogether Now - A Legacy for Blackpool.
"It is an innovative programme supporting the government directive to link the health agenda to physical activity," the spokeswoman said.
The town has "four tangerine targets" - physical activity, lifestyle, childhood health and mental health and well being.
Blackpool manager Ian Holloway, former player Jimmy Arnfield CBE, paralympian Shelly Woods and cricketer Steven Croft are all health ambassadors for the campaign.
It is also supported by the Blackpool players.
The NHS Blackpool spokeswoman said: "We are aware that we are not going to improve the health of our population overnight but we are confident this campaign will make a real difference."
Ruth Lambert, of Age Concern Blackpool and District, said Blackpool's life expectancy had been low for many years.
She said many people moved to the resort to retire which could affect the statistics.
"The local NHS and council has specific strategies in place to improve the health of people in this area.
"Our concerns are the funding of national and local projects - we hope these will keep going."
Related Internet Links
The BBC is not responsible for the content of external sites.