Fleetwood traders lose money because of tramline error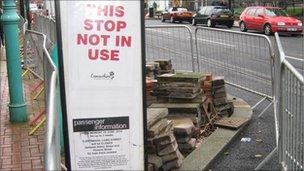 A design error in the refurbishment of the tramline in Fleetwood has led to customers being driven away, traders claim.
The mistake in the multi-million pound upgrade of the tram system has resulted in the road on Lord Street being 12 inches (30cm) higher than the pavement.
The work there is now at a standstill and temporary barriers have been placed around the edge of the kerb.
Shopkeepers said the cordons were deterring customers.
Colin Hind, owner of the Capricorn cafe, said he was out of pocket because people cannot park outside premises.
He explained: "What we're tending to find is they are parking on the other side of the street and they're looking at the barriers and seeing they have to walk all the way round them to get the shops so they are getting back in their car and going elsewhere.
"It's becoming a bit of a problem and a bit of an eyesore and we are sick of it."
Lancashire County Council's public transport development manager Chris Anslow said the design error was caused by the contractor and they are looking at new designs this week to rectify the problem.
However, he said the temporary barriers are in place "for safety reasons as the raised pavement is a trip hazard".
Mr Anslow ruled out offering compensation to shopkeepers for loss of trade.
"We've done our absolute best to minimise any disruption with the works," he said.
"This is a major investment, a £100m going into the tramway in the Fylde coast, and local traders are going to reap great benefits from it in 2012."
Related Internet Links
The BBC is not responsible for the content of external sites.