Lancashire Police arrest seven in Preston drugs raids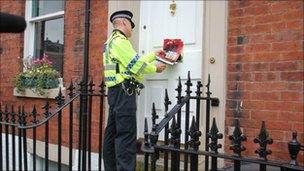 Three men, three woman and a youth have been arrested in a series of drugs raids by police in Preston.
More than 60 officers raided addresses in Avenham Terrace, Edmund Street, Dawson Walk and Wellington Street.
Supt James Lee, from Preston Police, said the force was reacting to concerns raised from the local community.
Six have been arrested on suspicion of supplying class A drugs. Police also delivered leaflets to residents explaining their actions.
The arrested men are a 34-year-old, who was arrested at Dawson Walk, another aged 33, who was picked up at Wellington Street and the third man, 29, was arrested at Edmund Street.
A boy, aged 17, was arrested at Avenham Terrace.
The women arrested on suspicion of supplying drugs are a 38-year-old woman at Edmund Street, and a woman, aged 20, was arrested at Preston Police Station.
A 28-year-old woman has also been arrested on suspicion of possessing a Class A drug at Wellington Street.
Supt James Lee, of Preston police, said: "Today we have sent a very clear message to those people who are involved in dealing drugs."
Related Internet Links
The BBC is not responsible for the content of external sites.