Scorpions and tarantulas found in Preston alleyway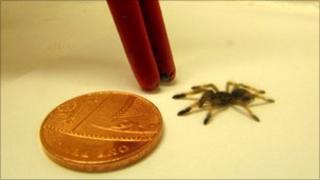 Two scorpions and 15 baby tarantulas have been found abandoned in an alleyway in Preston, Lancashire.
A member of the public spotted them on Saturday and took them to the police who alerted the RSPCA.
The RSPCA has released details about the discovery to try to trace their owners.
"They had obviously been kept by someone who knew about spiders because some of them are quite unusual," animal welfare officer John Littlewood said.
"We are hoping that the owner will come forward," he added.
"People should not abandon dangerous exotics like this.
"Anyone who found them - including a young child - could still have been bitten, even though the spiders are very young."
'Lucky still alive'
The scorpions - an Asian forest and an emperor - are one cm in length.
Among the tarantulas was a sunburst, which is one of the most aggressive tarantulas.
They are all being cared for at the Bugworld Experience in Liverpool.
Curator Jenny Dobson said: "Most that we've managed to identify are not commonly kept tarantulas and would be very difficult to look after.
"It's not the kind of thing that should be dumped in a back street".
She said all the creatures were lucky to be alive in the cold weather.