Victim's appeal after rape at Preston nightclub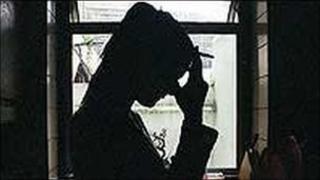 A teenager who was raped in a Lancashire nightclub has made an appeal for people to come forward to help catch her attacker.
The 18-year-old, who cannot be identified, was raped in the toilets of Browns nightclub in Preston on 26 June.
She had been celebrating the end of her exams with friends.
The student said nobody could understand how she felt but pleaded with anyone with information to "just do the right thing".
"Think about it as if it was you or your child," she said.
'May attack again'
She fears the rapist will attack another woman if he is not caught.
The teenager said she saw a group of three men outside Manyana in Preston.
One approached her and put his hand up her skirt but she told them to go away, she said.
The men followed the victim and her friends to Browns, and they all began dancing on the dance floor.
She went to the toilet, at about 0130 BST, but "when I turned around, he was stood there and the door was shut," she said.
"I think I was arguing with him."
She said the toilets were empty but other people will have seen the men dancing with her and her friends on the dance floor.
'Begged for help'
After the attack she ran back into the club screaming and then found a police officer outside and "begged him" to take her to a police station.
"I wouldn't let anybody anywhere near me."
She broke down when she tried to explain how it had affected her and her family's life.
"It has been really hard," she said.
She said she blamed herself at first and would not go out but is now having counselling.
Her parents did not want her to return to university, but she has gone back because "she can't let one person ruin everything".
She has urged other women to take care when they go out.
"Everyone is the same and thinks, 'Oh I can go out and drink as much as I want and it is never going to happen to me,'" she said.
"I am the unfortunate one that it has happened to.
"I wouldn't wish it on anybody."
The rapist is described as white, of slim build, 6ft (1.8m) tall, with black spiky hair.
He spoke with a non-English accent and was wearing a black jacket, blue jeans, and a white or light-coloured top under his jacket.
Anyone with any information should contact Lancashire Police.