Naked Lancashire cricketer James Anderson in Attitude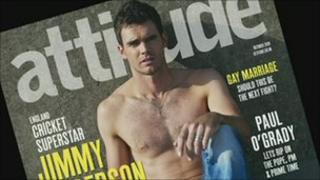 Lancashire paceman James Anderson has become the first cricketer to appear naked in Britain's biggest-selling gay magazine.
The 28-year-old married bowler appears on the front cover and in a naked shot inside the latest edition of Attitude.
He said he believed there was no homophobia in cricket and gay players should feel comfortable coming out.
The magazine said that it hoped the photos would signal that cricketers could be comfortable with gay fans.
'Feel confident'
Mr Anderson said: "There's a perception of lots of committees and old men being quite prim and proper, but I think the game is moving with the times.
"If there are any gay cricketers they should feel confident enough to come out because I don't think there is any homophobia in cricket."
His comments drew criticism from Manchester-based John Amaechi, the first NBA basketball star to speak publicly about being gay.
Mr Amaechi said: "He himself has suggested that he's going to get stick for doing this cover.
"Would he get stick for it if it was GQ? Or would that be a different kind of stick?"