Clitheroe church spire fundraising campaign starts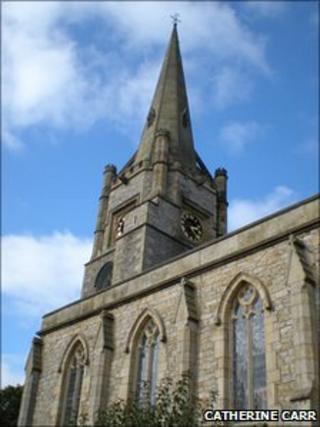 A campaign to raise £250,000 to preserve part of the Clitheroe skyline is under way.
The 20m (66ft) tall spire at St Mary Magdalene's church, which dates back to 1848, is to be completely rebuilt.
The decision to replace the structure, which is leaking, was made by the Parochial Church Council in March.
Officials have applied for £175,000 from English Heritage but must raise the remainder of the building costs.
The leaks have been caused by iron cramps - rods used to hold together building materials during construction - which are embedded in the stone.
Church vicar, The Reverend Andy Froud, said taking the whole spire down to remove the cramps, before rebuilding it, was the most cost effective option to fix the problem.
'Grateful for anything'
And despite the high number of current high profile charity appeals, the reverend said he was confident the people of Clitheroe could help.
"People have been really generous so far in giving for the spire, people are also very generous in giving money for flood relief, and I'm also doing a fun run raising money for cystic fibrosis. So our church, we do it all - it's not an either or," he said.
"If there's a very generous, very wealthy, person with £250,000 just sat there not doing anything - and there may be someone like that around Clitheroe - they are very welcome to contact me."
Volunteers launched the spire fund on Saturday and have already received a number of substantial donations, including two cheques for £1,000 and another for £500.
Local children also managed to raise £5 through selling smoothies at the launch event, the reverend told the BBC.
"We are equally grateful for anything," he added.