PM offers hope on Skelmersdale College campus shortfall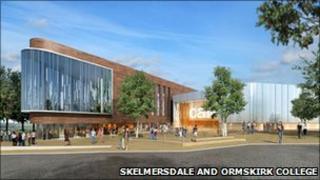 The prime minister has promised to look at the £4m funding gap which has hit the new Skelmersdale and Ormskirk College campus.
The £42m Skelmersdale project was hit by the decision to scrap the North West Development Agency (NWDA).
Rosie Cooper, the Labour MP for West Lancashire, said the announcement had been "a real shock" and urged David Cameron to intervene.
He told the Commons there might be room for manoeuvre.
The NWDA had earmarked £4m towards the cost of the college, but was forced to pull the plug on the funding after being hit with a £52m cut in its own budget.
Work under way
Projects were instead told to reapply for cash from the £1bn Regional Growth Fund, due to be brought in next year.
Since the announcement in July, Mrs Cooper has been working to secure the money to plug the budget shortfall.
Speaking during Prime Minister's Questions, she said: "Could the prime minister please meet with me in the college to find a way through?"
"The building is already going up. This would be a real embodiment of a hand up to the young people of Skelmersdale and the start of the regeneration of Skelmersdale."
In reply, Mr Cameron said: "While we did make difficult decisions and some spending reductions were made, we actually put some money back into college building projects because so many schemes had suffered from the overspending and lack of control over the last couple of years.
"So I'll certainly look at her case and see if a minister can meet with her to see what progress can be made."
Building work is well under way on the campus, which is scheduled to open in August 2011.
"Skelmersdale and Ormskirk College is very disappointed that this funding is no longer available to us and we are doing all that we can to secure alternative funds," said a spokesperson.
"Meanwhile, however, building work on the new college is continuing and we are on schedule to open in September 2011, as planned."