Couple jailed over sham marriage in Lancashire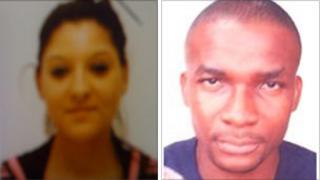 The UK Border Agency (UKBA) has said it is committed to tackling sham marriages after a couple were jailed for staging a ceremony in Lancashire.
Uchenna Peter Ezimorah, 36, a Nigerian living in Manchester, married Monika Slepcikova, 23, from Liverpool, in a church service in Accrington last June.
They were arrested by border police after it emerged the bride was paid £2,000 to go through with the ceremony.
Both were jailed at Preston Crown Court on Tuesday.
'Big business'
Ezimorah admitted perjury and obtaining leave to remain by deception and was jailed for 21 months.
Czech Slepcikova pleaded guilty to assisting unlawful immigration and was jailed for eight months.
Dave Magrath from UKBA said it would "not fail to take action against those who try to falsify marriages in order to gain entry to the UK".
He continued: "We have specialist teams of immigration officers and police working to investigate cases just like this and ensuring people are not able to benefit from breaking the UK's immigration laws."
Minister for Immigration Damian Green said: "Illegal immigration is big business. At home and abroad, we are tackling highly organised crime groups who make their living by trying to exploit the immigration system and breach our border security."
He added: "This month, the UK Border Agency is carrying out an intense period of activity to go after these organised crime groups to put the ringleaders before the courts and shut off the supply of illegal immigrants at its source."