Labour bidding to regain Blackburn with Darwen Council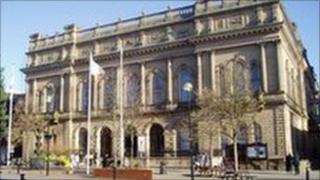 Labour is trying to regain control of Blackburn with Darwen Council after two independent councillors defected from the ruling coalition.
The Lancashire council has been run by a Conservative/Liberal Democrat/For Darwen coalition since 2007.
But councillors Trevor Maxfield and Anthony Meleady resigned from the For Darwen Party and withdrew their support from the coalition last month.
Labour is to put forward a notice of motion to try to get back into power.
The meeting is due to be held on Tuesday evening.
Its councillors will ask for a vote on whether the current leader, Councillor Michael Lee, should step down and be replaced with someone from its own party.
'Easy options'
The council is trying to save about £40m in the next four years as it prepares for a reduction in grants given to local government.
It has proposed measures including the closure of Shadsworth Leisure Centre and cutting funding for community centres.
Councillor Kate Hollern, leader of the Labour group, said: "I've spoken to Trevor Maxfield a number of times over the last couple weeks, like myself he is concerned about the cuts to frontline services.
"He is right, the coalition is taking easy options with leisure centres and community centres.
'Achieved a great deal'
"There is a lot of back office stuff that can be done. A number of national grants have gone and that's where we need to be looking."
She said savings could be made in the senior staffing structure and in administrating neighbourhood boards.
Councillor Michael Lee, leader of Blackburn with Darwen Council, said: "As a coalition we have achieved a great deal over the last three and half years including the lowest council tax in Lancashire, a return to weekly refuse collections and investing £4m extra per year in adult social care.
"If the vote goes against us tonight we will work in opposition to ensure decisions focus on the priorities."