Council creates Facebook page for weather advice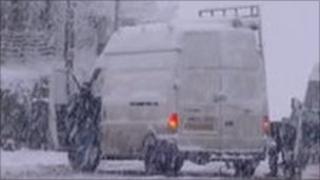 A Lancashire council has created a page on Facebook to keep people informed of disruption due to the weather, after last winter's heavy snow.
Blackburn with Darwen Council launched the page - called BwD Winter - in response to the unprecedented conditions in December and January.
The page will include local forecasts, gritting, school closures and bin collections.
The council has also ordered 2,500 tonnes of salt as a precaution.
It has also found a second supplier in Ireland, in case its usual one in Cheshire runs short.
Messages out
Peter Hunt, director of environment, said: "It is too early to say that the weather will be like this... but we are ready.
"Due to the unprecedented weather last year, we needed to get information to residents about disruptions to services.
"As well as the normal media channels, we used social media to get messages out.
"It is both free, fast and two-way communication, so the Facebook page is just expanding on the channels that we have at our disposal to communicate with the public."