Heart machines installed across Blackpool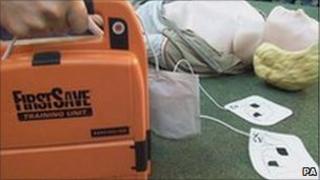 Blackpool is set to be one of the first towns in north-west England to have heart machines put in public places.
With 25 different sites, the aim is to ensure anyone will be less than two minutes from a potentially life-saving defibrillator.
The Pleasure Beach, Blackpool Tower and Houndshill Shopping Centre are just some of the places to have them installed.
The town has the lowest life expectancy in England according to the NHS.
Headed by the North West Ambulance Service (NWAS), the scheme was launched at the Tower Ballroom earlier.
Many people attended the event, including those who had suffered severe heart problems in the past.
Zoe Smith, 26, from Bispham, was shocked back to life by a defibrillator after she suffered a cardiac arrest two years ago.
'Crucial first minutes'
Without any warning she started to feel sick and her next memory was waking up in hospital. She had a fit which led to her suffering cardiac arrest.
Fortunately a paramedic in a rapid response vehicle arrived after her friend dialled 999 and used a defibrillator.
Her condition was so bad she was left with a short term memory of only two minutes.
She said without the use of the heart machine she probably would have died.
The £20,000 initiative, which is funded by NHS Blackpool and the British Heart Foundation, is called Heart Smart and the NWAS are hoping to roll it out in towns across the region.
Mark Evans, community resuscitation manager at NWAS, said: "When someone collapses due to cardiac arrest, the first few minutes are crucial.
"Chances of survival are improved if prompt, appropriate action is taken.
"Having defibrillators in communities and town centres helps save lives. North West Ambulance Service is extremely pleased to have contributed to making Blackpool Heart Smart."