Apology over No Entry road marking error in Preston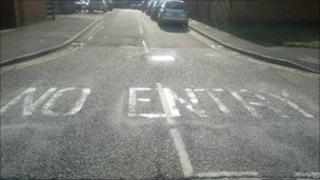 A council has apologised for painting the wrong street with No Entry - causing "chaos" by a row of shops in Preston.
Shop owners said they were left stunned when workers from Lancashire County Council started painting Tag Lane in Ingol last Tuesday.
"It was unbelievable," Neal Gardiner from Neal's Bakery said, "It is the only through road past our businesses."
The local authority said it was "very sorry for the confusion".
The sign was supposed to have been painted over the worn out road markings in the shopping lay-by on Ventnor Place.
'Vital road'
Council painters returned to Tag Lane earlier - a week after it was first painted - and have sanded the sign down, but local people said it was "still very clear on the road".
Mr Gardiner added: "Minutes after the sign was painted I contacted the council to let them know.
"There was a bit of chaos for the first few days, with lorries parking on double yellow lines nearby because the drivers thought they could no longer use the road.
"This road however, is vital to our businesses. Fortunately we do not seem to have lost a lot of business because people are just ignoring the sign now and driving down it anyway."
Paul Dunne, principal engineer with Lancashire county Council, said: "When we were made aware of this error we asked our contractors to rectify the marking as soon as possible."