Survey finds resilience disparities in Lancashire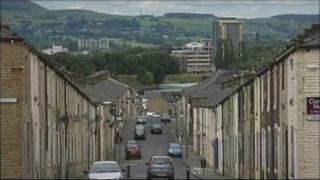 There are huge disparities in how areas of Lancashire are set to survive any future economic storms, research commissioned by the BBC has found.
The study by Experian ranks the 324 English councils in terms of their resilience to future economic shocks.
It found Burnley is the second least resilient area in north west England, after Barrow, and one of the worst in the country - ranking 314 out of 324.
But Ribble Valley comes third highest in the North West rankings.
The BBC commissioned the study ahead of the government's spending review on 20 October - potentially one of the economic shocks to an area.
It looked at each council area, assessing them under four themes:
Business - including vulnerable sectors, resilient sectors, high growth sectors, insolvency rate and business start-up
Community - including the rate of people claiming benefits and life expectancy
People - including working age population, how much they earn and the qualifications they possess
Place - including achievement at school, crime rates and house prices
Burnley ranked the lowest in England in terms of "place" resilience, with Blackpool the second lowest.
Burnley also has the second lowest house prices in the country, behind Hyndburn.
It also scores poorly for education: it has the lowest GCSE results in England, compared to Fylde which has the highest.
Blackpool and Hyndburn are at the bottom of the North West table for "people", yet Ribble Valley and Chorley are third and fifth best respectively.
Blackpool has the worst life expectancy for men in England. Ribble Valley's is much higher, and the best in the North West.
Many areas in the county score highly for community - Ribble Valley, Fylde, South Ribble, Chorley and Wyre top the North West table.
Ribble Valley and Fylde also rank the highest in the region for social cohesion - how well neighbours' look out for each other - but Blackburn with Darwen is third worst.
Looking at business, Ribble Valley, Wyre, West Lancashire, and Lancaster rank highest in the North West for having resilient sectors, such as agriculture, forestry and fishing and banking and insurance.
Blackpool is second worst in the region, and 10th worst nationally. The resort is also ranked the lowest for earnings regionally.
Martin Kelly, director for economic development at Lancashire County Council, said: "We recognise there are some areas which are not enjoying the prosperity of others.
"Our job is to create as many opportunities as we can - which we are doing."
He said the council had spent several hundred million pounds on rebuilding schools in Burnley and Pendle.
The authority has also worked with employers to understand what they want from a location, he said.
About 50,000 jobs had been created in the county in the past 10 years, he added.
Spending Review: the North West Tonight debate is on BBC One on Thursday at 2235 BST. Radio Lancashire is hosting a debate and phone-in on Friday from 0900 BST.