Suspects in Blackpool tested with anti-theft technology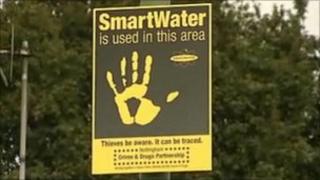 Every person arrested in Blackpool is now automatically being tested for the anti-theft device SmartWater.
The invisible liquid can be applied to possessions and each batch of the substance has its own DNA-style code.
It rubs off on anyone who handles the items, but glows under ultraviolet light, revealing the code and linking the criminal to the stolen goods.
Specialist equipment has been installed at Blackpool Police Station to allow SmartWater to be detected.
Custody Insp Tim Newton said: "Even though it is invisible to the naked eye, SmartWater remains detectable on skin and hair for weeks and even longer on clothing.
"Everyone arrested is now being taken into a room with specialist ultraviolet lighting, which will show up any traces of SmartWater.
"This will help us link offenders to crime scenes, providing vital evidence and ultimately bringing more offenders to justice."
Lancashire Police said SmartWater had been used successfully in other parts of the country.