Toxic blue-green algae found in Lancashire reservoir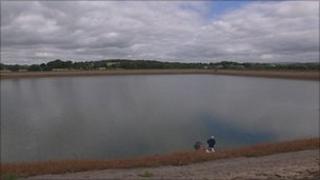 People are being warned to stay away from a Lancashire reservoir after it became contaminated with potentially poisonous algae.
Warm weather has caused blue-green algae to grow in Barrowford reservoir and along a 60-mile (96km) stretch of the Leeds and Liverpool Canal.
The algae is growing in the canal between Wigan and Gargrave, which is currently closed to save water.
Direct contact with the algae can cause stomach upsets or skin irritation.
Fatal to dogs
It may cause other allergic reactions including itchy eyes and hayfever-like symptoms.
Anyone affected is being urged to see a doctor.
The algae can also be fatal to dogs and other animals.
Cath Ferguson, environment manager for British Waterways, said: "If members of the public do come into contact with blue-green algae affected water, they should remove all contaminated clothing and wash all exposed skin with clean water as soon as possible, and particularly before eating or drinking.
"If they are in any doubt about their welfare after contact with algae, they should seek medical advice.
"Farmers and pet owners should ensure that their animals do not have access to affected water".