Pub hosts World Gravy Wrestling Championships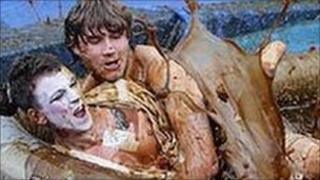 Competitors have been taking part in the fourth annual World Gravy Wrestling Championships in Lancashire.
The Rose 'n' Bowl pub in Stacksteads has made 1,000 litres (1,750 pints) of gravy for Monday afternoon's contest in aid of the East Lancashire Hospice.
Competitors - in fancy dress - wrestle in a 14ft (4.3m) paddling pool, lined with an inch (2.5cm) of gravy.
Organiser Andy Holt - who is taking part as a giant Oxo cube - said: "It is a very popular event."
He said the main focus of the afternoon was to have fun.
"The competitors are given points for fun factor and the entertainment value," he added.
"We look at it as a community day. We also raise quite a bit of money for charity."