Lights to go out on M6 in Lancashire at night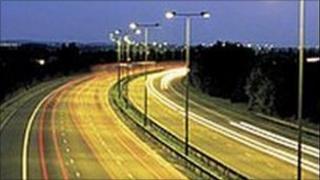 The lights are going out on a section of the M6 in an attempt to cut carbon emissions and light pollution.
The Highways Agency will switch off the lights between junctions 27 at Standish and 29 at Lostock Hall in Lancashire each night from midnight to 0500.
The agency said it was the latest in a series of switch offs which are already in place in Kent, Berkshire, Hampshire, Devon and Avon and Somerset.
It said the motorway junctions and approaches would remain lit.
Andy Withington, the Highways Agency's area performance manager for south Lancashire, said: "This is the seventh site in England and we expect it to work as successfully as everywhere else - achieving up to a 40% saving in carbon emissions and energy use as well as giving local communities reduced light pollution of the night sky."
He added: "This site has been carefully chosen because traffic flows are relatively low here in the early hours and when taken together with the good safety record between these junctions, there would be no case for installing new lighting if the decision was based on the overnight figures alone."